Wildwind i Grekland: 30 års erfarenhet av att leda flottan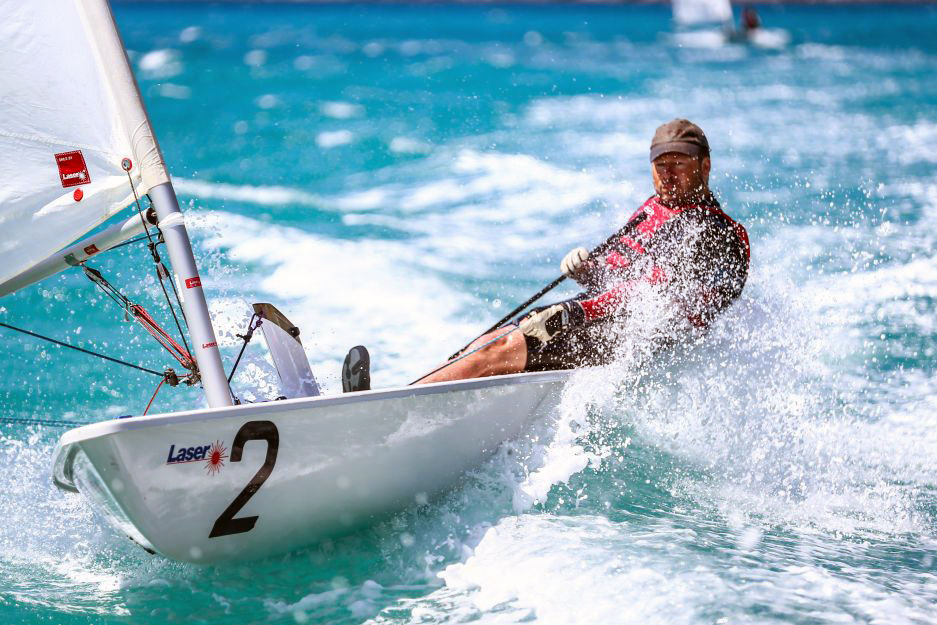 Sedan 30 år är Wildwind-anläggningen känd som den bästa platsen för blåsiga eftermiddagar och perfekta strandseglingsförhållanden. Med vår bas i Vassilikibukten på ön Lefkas, och med vår informella, vänliga atmosfär, har vi vuxit till en av världens främsta semestermål för dem med höga krav ifråga om seglingsresor.
Vårt team bestående av mycket erfarna och RYA-certifierade instruktörer garanterar att du får ut maximalt av din semester samt är säker ute på vattnet. Vi erbjuder ett utrustningsurval av högsta kvalitet, inklusive ett stort urval jollar och katamaraner.
För den medresenär som kanske inte är så pigg på att segla erbjuds ett stort urval andra aktiviteter i och runt Vassiliki, inklusive vårt unika Healthy Options-program med yoga-, pilates- och fitnesskurser, liksom även massage, cykling, guidade vandringsturer och mycket mer. Wildwind är också känt för sitt avslappnade sociala liv, inklusive strandgrillningar och lugna cocktailkvällar med livemusik.
Lär dig mer om vår historia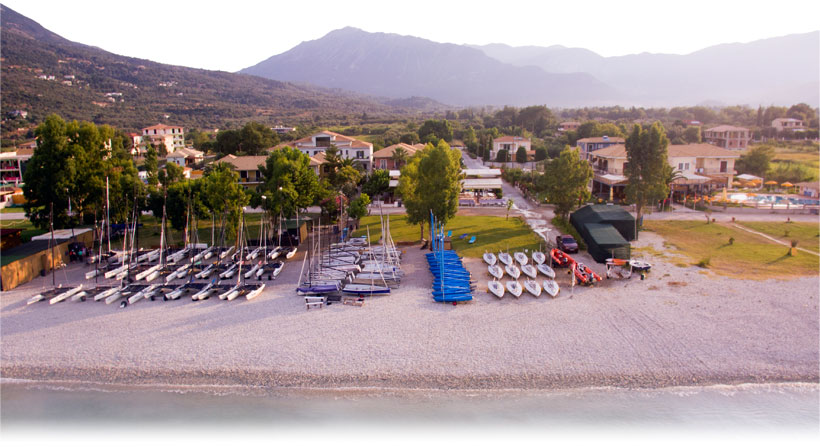 Titta på videor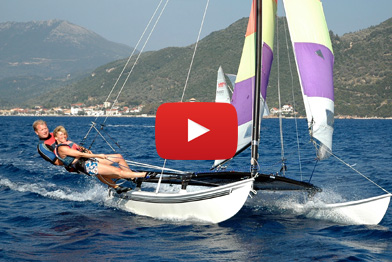 Fler segelvideor
Vad gör segling i Vassiliki så speciell?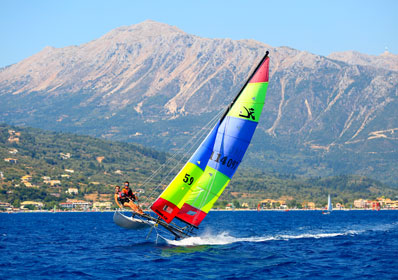 De bästa seglingsförhållandena
De flesta morgnar blåser en mild landbris, idealisk för nybörjare att få sin första smak av glädjen med segling och vindsurfing. De mer avancerade seglare använder denna tid för att bättra på sina tekniker på de mer krävande båtarna och att för lite freestyle-vindsurfing. De flesta eftermiddagarna växlar vinden över kusten och gör sig redo för en spännande eftermiddag i de säkra vattnen i denna vidsträckta vik. De mer erfarna kan öva i kraftig vind eller bara segla i hårt vind, medan nybörjare kan segla ihop med en av instruktörerna på en galen tur!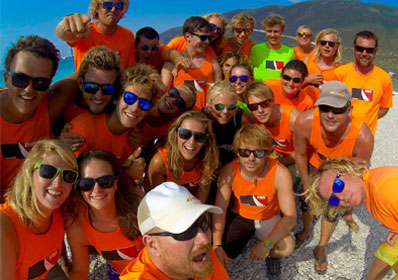 De bästa seglingsinstruktörerna
Vårt team av instruktörer är mycket professionell, erfaren och lättillgänglig. Många har tävlat på nationell och internationell nivå. Vi är en RYA-erkänd skola och är en av de få som erbjuder kurser för att täcka hela kursplanen. Alla kurser erbjuds utan extra kostnad, och RYA-kvalifikationen innebär att din säkerhet aldrig äventyras.

Den bästa seglingsutrustningen
En imponerande uppställning med båtar väntar på dig på stranden: högpresterande jollar och katamaraner för erfarna seglare och ett stort urval av mindre krävande farkoster för nybörjare och unga. Se hela flottan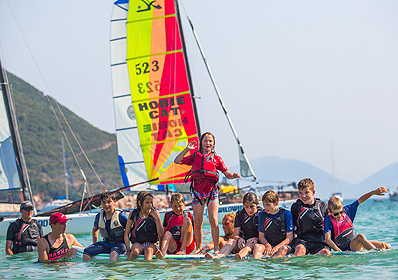 The best holiday for families
Wildwind is a great place for families to enjoy their holiday time together. But parents sometimes need some 'me-time', too. Our Teens & Kids Club is open every day and is open to all kids between 6-17 years. Kids of all ages will enjoy learning to sail in the beautiful, safe, azure waters - their instructors cater to all levels of sailing ability and offers fun activities on and off the water – for when the going gets tough, and the tough just need an ice cream! Read more about Wildwind Teens and the Wildwind Kids Club
SENASTE NYTT OCH AKTIVITETER...
I'm so impressed: no wonder you guys won the travel award for best sport/activity holiday! "
Beach manager Joe and his team of highly experienced and qualified sailing instructors are here at our idyllic Greek island sailing base preparing for another day looking after dozens of guests from the UK, Germany and Poland who are revelling in the optimal wind conditions here at Wildwind.
Läs mer
Is it safe to travel to Wildwind this year?
This is the question that crosses many people's mind as they decide whether to join us in Greece this year. With the experience of the past six months it is eminently wise that anyone considering travelling should have all the information they need to decide whether it is safe to fly to Vasiliki this summer. We have been on that journey with our guests as we made the decision to open and to welcome guests from the UK. We have listened to their concerns, gathered the information they asked for and welcomed them in Vassiliki: albeit in a socially distanced way.
Läs mer
Fler nyheter